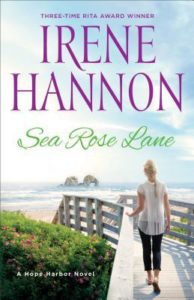 If you read any book this summer, read Sea Rose Lane. If anyone has the power to make a grown woman cry, it's Irene Hannon. Her latest novel, Sea Rose Lane, set in the small coastal town of Hope Harbor, will tug at your heartstrings. Eric Nash returns home after a shocking downsize of his prestigious law firm to find another surprise. His dad is remodeling his childhood home into a quaint B & B and the beautiful, talented BJ Stevens is the lead architect of the project.
Uncertainty abounds in Eric's life as he transitions from one career to another. While he searches for other job openings, sparks fly between him and BJ. The undeniable attraction doesn't stop them from designing and painting a fabulous set together for a local community event.  Not only do they work together for this project, but they bounce ideas off each other, striving to create a successful program for senior adults in Hope Harbor.
BJ's employee, Luis, and her senior friend, Eleanor, are prime candidates for the program. Through a challenging series of events, God brings this group of people together. I couldn't help crying, reading about the devastating loss Luis experiences daily, and the loneliness Eleanor feels but hides from everyone. You'll love this story of hope in Sea Rose Lane.
Life is full of unexpected changes but Irene Hannon skillfully shows that our circumstances don't determine who we are or who we can become. The coincidences aren't seemingly incidental, but instrumental in God's story through us. Ten years ago, I might've laughed at this idea but being a product of God's divine intervention made me realize how detail oriented He is. I related to these characters on many levels and I think you will too.
You can pick up your own copy of Sea Rose Lane by Irene Hannon here. (And it's on sale for only $8!)
Disclaimer: Thank you Revell, a division of Baker Publishing Group, for providing me with a free copy of this book in exchange for my honest review.